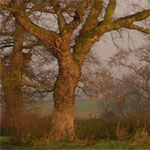 Iranian Lettuce
Trout was a lonesome child. Through no fault of his own, a result of his father's economy of thought when he bought a house in Grafham, the boy was destined to a childhood devoid of friends. With no other children in the village his age, Mike Trout lived out a condemned adolescence condemning wildlife to existence in a jam-jar. "For breeding," he used to tell his mother when he brought home the pots stuffed with dragon-flies, hawk-moths and stag-beetles and a few days later, habitually mounted their cadavers on the squares of card he would later consign to drawers labelled: "SPECIMINS - KEEP OUT!".
read more...
---
travel articles...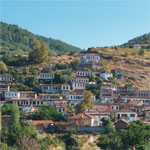 Şirince, Turkey
A Greek village in Turkey
Viewed from the distance, as the minibus winds up through the olive groves and orchards, Şirince looks something like a quaint collection of old railway carriages tossed against the hillside. On arrival though, it turns out to be something of a living museum and one of the finest remaining examples of an Ottoman village one is likely to come across in Western Turkey.
Amidst a natural amphitheatre of surrounding green, the ample, white-washed houses, with their shallow-pitched, pan-tiled roofs, huddle together haphazardly separated only by steep narrow passageways that wind between them. Their upper storeys, in characteristically Ottoman fashion, jut out over the alleyways while large, wooden-framed, rectangular windows open out onto the vineyards below. An atmosphere of quiet dignity suffuses this haven of rural idyll.
read more...
---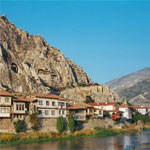 Amasya, Turkey
In search of Ferhad and Şirin - Turkey's most well-known love story
"You human beings," the Iron Mountain tells Ferhad, "love one another in such strange ways… with your hearts, your spirits, your minds… …no wonder you are unhappy."
But by this time Ferhad has already been labouring ten years to build the watercourse that will carry drinking water down to the cholera-stricken inhabitants of the city below. It is a tender moment in what is arguably the greatest of Turkish love stories: Nazım Hikmet's play Ferhad ile Şirin.
read more...
---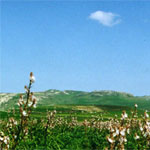 Tunisia
Stepping-stones in the ocean
Behind me, the village of Chaouach, a fragile almost destitute settlement from where I have just wandered, clings to its rocky outcrop like a fledgling bird. I stand facing North, overlooking a verdant landscape glistening with bugloss that rolls in gently unfolding swathes towards its summit, Jebel Ang, three kilometres distant. A meandering horizon separates us from a single tone of brilliant cerulean sky, cloudless and virgin. Thirty metres ahead and slightly to my left, a farmstead stands so isolate and forlorn it would be easy to miss, its careless pen indifferently enclosing a few chickens, a donkey. Disturbed by the bark of her dog, a woman looks out from its tumbledown door. We wave acknowledgingly to each other, then she turns inside. To my right and to the East, the land falls away sharply with distant views over the Mejerda valley and the town we have just climbed from, Mejez el Bab. Over my left shoulder, a slope of olive trees carpeted with marigolds, poppies, forget-me-nots rises to a sandstone bluff from where the empty portals of Byzantine rock tombs survey the clear air. A honey buzzard circles overhead.
read more...
---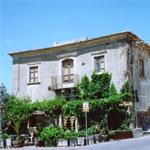 Savoca, Sicily
An Eternal life - alla Siciliana
Baron Paolo Cacopardo stares at me horrifically through scorched eyes. Of late, he has lost some of his baronly portliness, his suntan could do with some serious beach-therapy and his suit needs a stitch and an iron. But considering the fellow's been dead for a couple of centuries, he's not in such bad shape.
Paolo Cacopardo and his aristocrat cronies are among the thirty or so mummified corpses to be found in the crypt of the Capuchin Monastery at Savoca. It's one of the more gruesome sights to greet the visitor in Sicily but certainly one of the most impressionable.
read more...
---
Acquedolci, Sicily
Il Signor Geraci's Secret
The sun shone. It was warm, even for February, and after their Sunday morning stroll, the inhabitants of Acquedolci had retired indoors for lunch. Now all that stirred in the air outside was the smell of cooking; grilled fish, Sicilian sausages, peppers. Even the metalworker opposite had broken his exhaustive hours, closed his workshop and gone home to eat. For a short while, this brow-beaten Sicilian village would be spared the din of arc-welders, panel-beaters, mopeds. We too sat down to lunch, but the story of a murder on the one o'clock news distracted me from the spaghetti alla carbonara on my plate. I flicked up the volume on the remote control.
read more...
---